Flexible enough to enhance Berkeley and support exciting new opportunities, The Cal Fund makes a significant impact all across campus.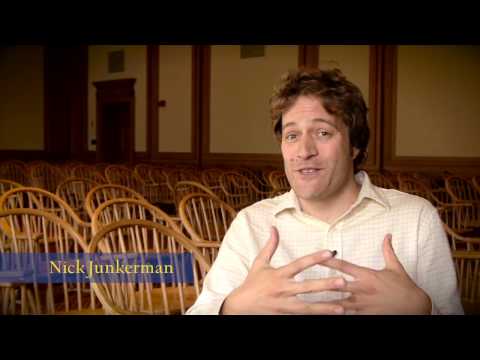 Berkeley Connect
Transforming undergraduate education
Imagine a program that has the potential to transform the undergraduate experience at Berkeley. That pairs undergraduates with faculty and graduate student mentors for one-on-one and group activities. That encourages students to gather around mutual academic interests. And that strengthens the bonds between students and their professors.
Such a program exists at Berkeley and is growing. Piloted in the English department as the Chernin Mentoring Program, Berkeley Connect combines our university's intellectual firepower with the supportive environment offered by small colleges. read more
Peter Chernin '73, the program's founding supporter, said he was a sheltered kid from New York when he started at Berkeley more than 40 years ago, and he found the campus tough to navigate. When his son had a similar experience, he approached the university about finding a way to reimagine undergraduate education.
"We kept coming back to the idea of 'community,'" he said, "not like pizza parties, but an intellectual community. No other large research institution is attempting to create the nurturing, intimate feel of a small college."
In recognition of its potential — and thanks to $1 million in annual support from The Cal Fund and The Cal Parents Fund — the university has expanded Berkeley Connect to 10 academic departments, and gifts to these funds will further extend its reach.
"We want to give every student, from the undeclared freshman to the graduating senior, the chance to participate," said Maura Nolan, an English professor who serves as Berkeley Connect's director. "The more contact students have with professors, mentors, and each other, the more they will think deeply about intellectual questions and be better prepared for their futures."
Professors from each participating department create a curriculum that is implemented by graduate fellows. Acting as mentors, the fellows "give the students the individual attention that can be hard to find at Berkeley and show them how to talk to their professors," Nolan said. Students receive credit for participating.
Because Berkeley Connect takes full advantage of existing resources, the cost to run it is only $450 to $500 per student per semester. "We are in a new environment," says Chernin. "If we are going to charge more for public education, we have to offer the best. Berkeley Connect raises the bar on excellence for undergraduates."
To learn more, visit berkeleyconnect.berkeley.edu.
A one-stop shop for help
Cal Student Central minimizes undergrads' stress in addressing administrative matters
For some Berkeley alumni, memories of long lines at the registrar's office and administrative red tape are mixed in with the more positive memories of campus life. But as of last year, Berkeley students can now take the lion's share of their campus business to a single convenient location, 120 Sproul Hall.
Cal Student Central, on Sproul's main floor, opened its doors in 2013 and has become the one-stop source of information and assistance concerning financial aid, fees and billing, payments, disbursements, registration and enrollment. Staffed by a cross-trained, service-oriented team, the center — which receives funding through The Cal Fund and The Cal Parents Fund — supports timely and efficient responses to student requests. read more
"Our staff provides the front-line services that students used to receive from different offices, some located across campus from each other," says Carmen Ortiz, the center's director.
Students may inquire at Cal Student Central about charges to their account, pay their tuition and fees, drop off financial-aid documents, apply for an emergency loan, order a transcript or pick up a refund check.
Vice Chancellor of Student Affairs Harry Le Grande called it "a major transformation" that saves students "hours of non-productive time traveling across campus to complete administrative tasks."
Students identified such a center as a top priority, and campus leadership helped advise in the overall planning of the center — registering their desire, for instance, to interact with staff in a more casual environment. They provided input, as well, on the layout of the space, right down to the configuration of furniture.
To learn more about Cal Student Central, visit studentcentral.berkeley.edu.
"The upgrade you guys did is a big game-changer. I remember when I first started here at Cal, the line was long and it was just kind of stressful to come over here. But now it's definitely more comfortable, (with) more friendly service."
— A student review
Strength in scholarships
Private support helps Berkeley educate deserving students, regardless of financial status
As an undergraduate student, Esther Chung found her passion — and fulfilled her promise — at Cal, thanks in large part to her Berkeley Undergraduate Scholarship.
Chung, who graduated last spring with a degree in public health, developed a strong interest in the health of communities as a Cal student. She event spent much of her free time volunteering at the Suitcase Clinic, a set of student-run clinics serving homeless and low-income populations.
Her scholarship gave her the freedom to pursue her newfound passion — both in and out of the classroom. "Instead of working more hours at my work-study job," recalls Chung, "I was able to focus on my studies, volunteer at the clinic, conduct research with a Ph.D. student, and write an honors thesis." read more
Since the founding of UC Berkeley in 1868, the university has worked tirelessly to provide access and excellence to students like Chung, irrespective of their financial standing.
Nearly 150 years later, the university's tradition of accessibility is alive and well, and the Berkeley Undergraduate Scholarship Program goes a long way toward filling this vital need. Each year, the program awards thousands of scholarships on the basis of merit and achievement — but it also takes into account financial need in many cases.